SymbolArts Creates Stunning Challenge Coin for the UHFD
March 3rd, 2020
"I have long held the belief that fire departments should be the public's house. It was bought by them, and they should feel comfortable in it" says Brian Ball, chief of the Union Hill Fire Department in Union Hill, New York.
The UHFD has a special bond with their community and outside of firefighting and providing emergency medical services the department often sponsors public events. "These people support us in good times and bad, and many of the families in our district are on the lower income scale. Things like Halloween parties and Easter egg hunts are things their family could never afford to do, so we do it for them. It's not much, but it makes a difference" said Ball.
When it came time to honor their own, the UHFD contacted SymbolArts to help create an original challenge coin, to be given to attendees of the department's annual banquet.
Rather than requesting a design be made from scratch, Ball provided SymbolArts with some existing artwork to use as a template for the coin. Dan Seldes, the son of a UHFD member, worked with Ball to create the imagery on the coin.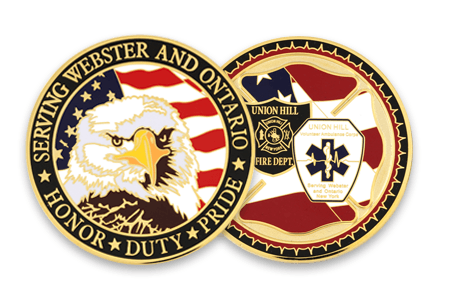 He and I brainstormed ideas", said Ball "and we came up with the combined patch design on the coins." It was important that "the identity of the department – as a fire and ambulance corps be retained" with no sense of separation, according to Ball.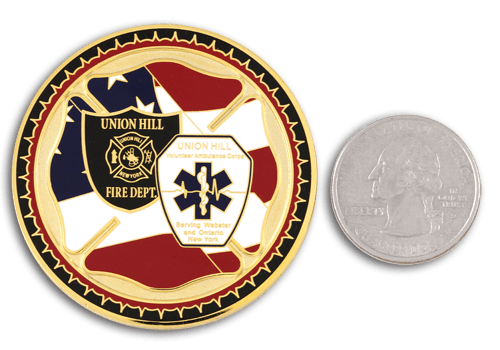 "Honor, Duty, Respect", these words adorn the coin and come from the National Fallen Firefighters memorial, a reminder of the necessary values it takes to serve with the UHFD. Patriotic touches include a bald eagle and a "waving" flag which to Ball represents department "unity moving forward".
Ball discovered SymbolArts at a trade show and thought our "artwork was excellent and unique". We found the artwork which Ball and Seldes brought to us to be excellent and unique and are proud to have helped perfect it!