Layton City, UT Centennial Celebration
March 12th, 2021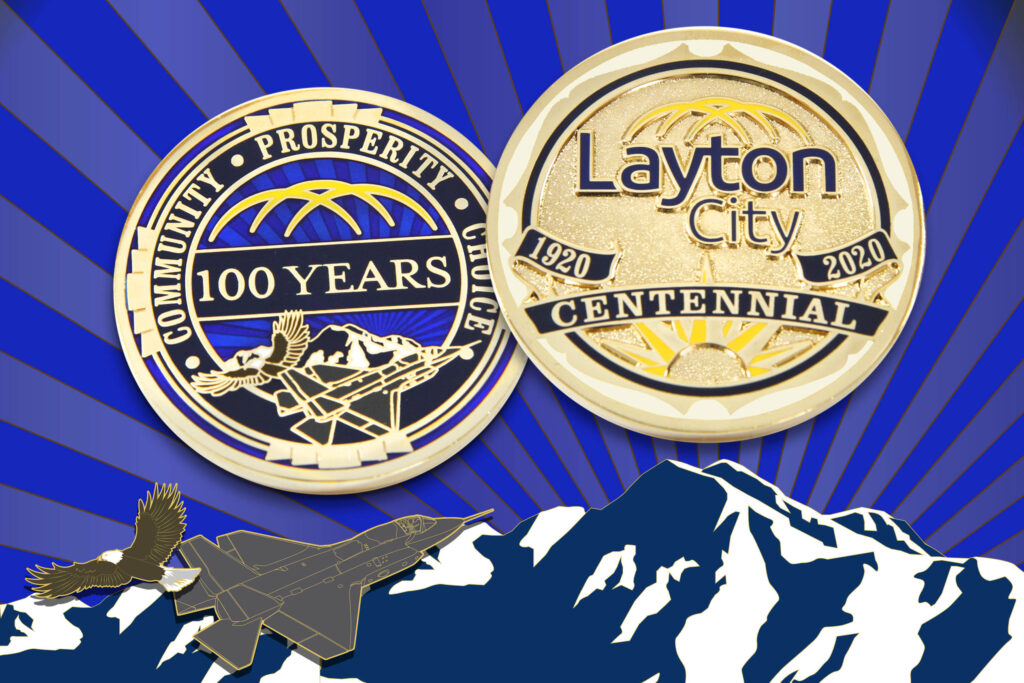 Celebrating 100 Years with Layton City
2020 marked the centennial celebration of the incorporation of Layton City, UT. Starting as a small community of farmers in 1920, Layton has seen immense growth over the past 100 years and is now the largest city in Davis County. As a close neighbor, SymbolArts is so happy to have been a part of building their commemorative challenge coin. Although the pandemic put a damper on many of the planned events and gatherings. Citizens were able to purchase the coin, a collectible that will no doubt hold a special place for those who call Layton City home.
Designing the Coin
So much thought and creativity go into the design of our coins. We love working with officials, business owners and departments to create something unique and special for their audience. This challenge coin was created as a symbol of the growth, achievement and admiration for the City of Layton centennial celebration. Key elements of the town were chosen as the visual components of the coin including:
The picturesque mountains of the Wasatch Front
The jets of Hill Air Force Base and the "Sounds of Freedom" heard around the city when they take flight.
An American Bald Eagle symbolizing great strength, majesty, and prosperous long life.
These ideas and a little help from our in-house art team resulted in the beautiful coin pictured above. We've heard feedback that people are loving their coins and feel they received a small piece of history to cherish. Visit the Layton City website for more information on their centennial celebration.
Why a Challenge Coin?
Despite being one of our best sellers, many of our customers have never heard of a challenge coin. The concept is popular in military and public safety settings as a physical representation of a team or squad one belongs to. The name comes from the "challenge" other crew members would make to present their coins which were expected to be carried at all times. If a member fails to present their coin they owed the team a round of drinks. While "punishments" aren't a modern-day aspect of the challenge coin, they are still a unique, special way to show your loyalty and affiliation. Have an idea for a coin? SymbolArts can help you create your very own. Give us a call (801) 475-6000 or fill out our free quote request form to get the process going.