Corporate Awards Worthy of Your Business
Corporate awards programs are one of our specialties. By implementing our own recognition strategies and incentives we've seen great success. Our program is built around an annual gala where employees enjoy a sit-down dinner and presentation. Custom-made prizes and awards are handed out for achievements like; smashing sales goals, years of service, and department acknowledgments. Employees enjoy the chance to sit with one another and celebrate their hard work. The awards themselves are carefully crafted to be brand-specific and attractive for display around the office. You won't see cheap, plastic participation trophies at a SymbolArts Gala and we encourage our customers to follow suit. Think outside the box and create something unique that rings true to your company culture. Employee recognition gifts are a great way to motivate employees and boost moral.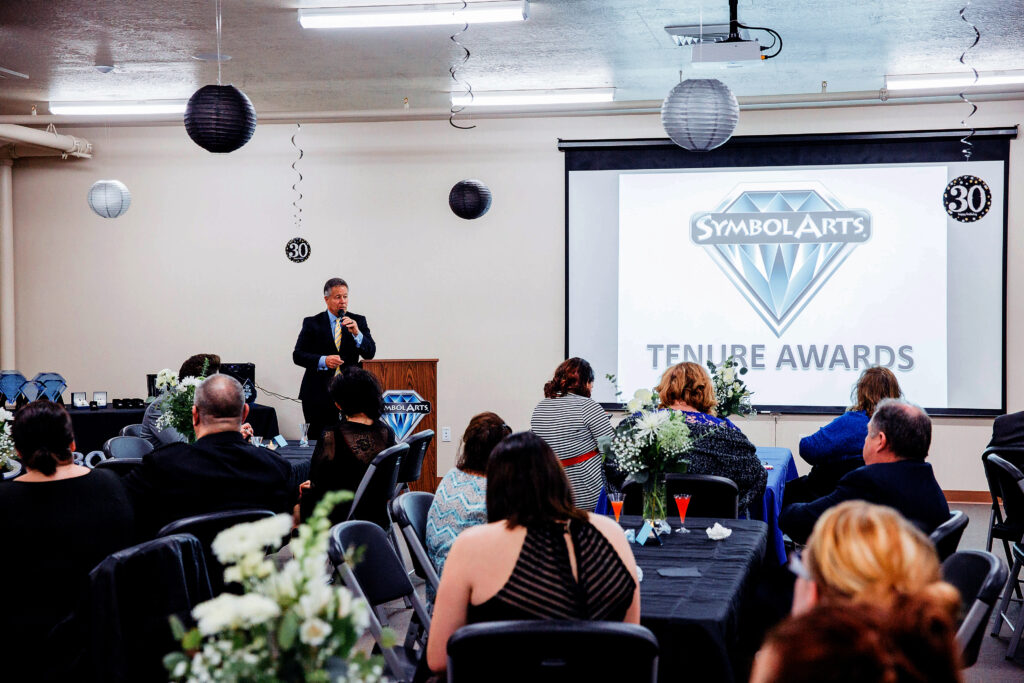 Our Favorite Corporate Awards Examples. Take inspiration from the best!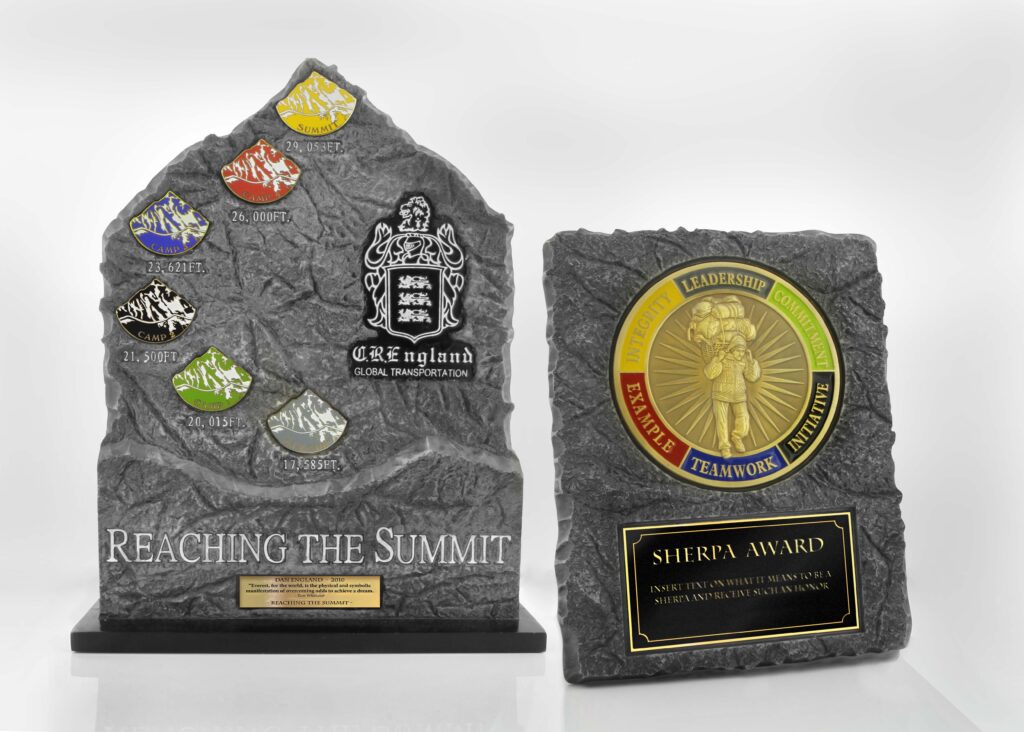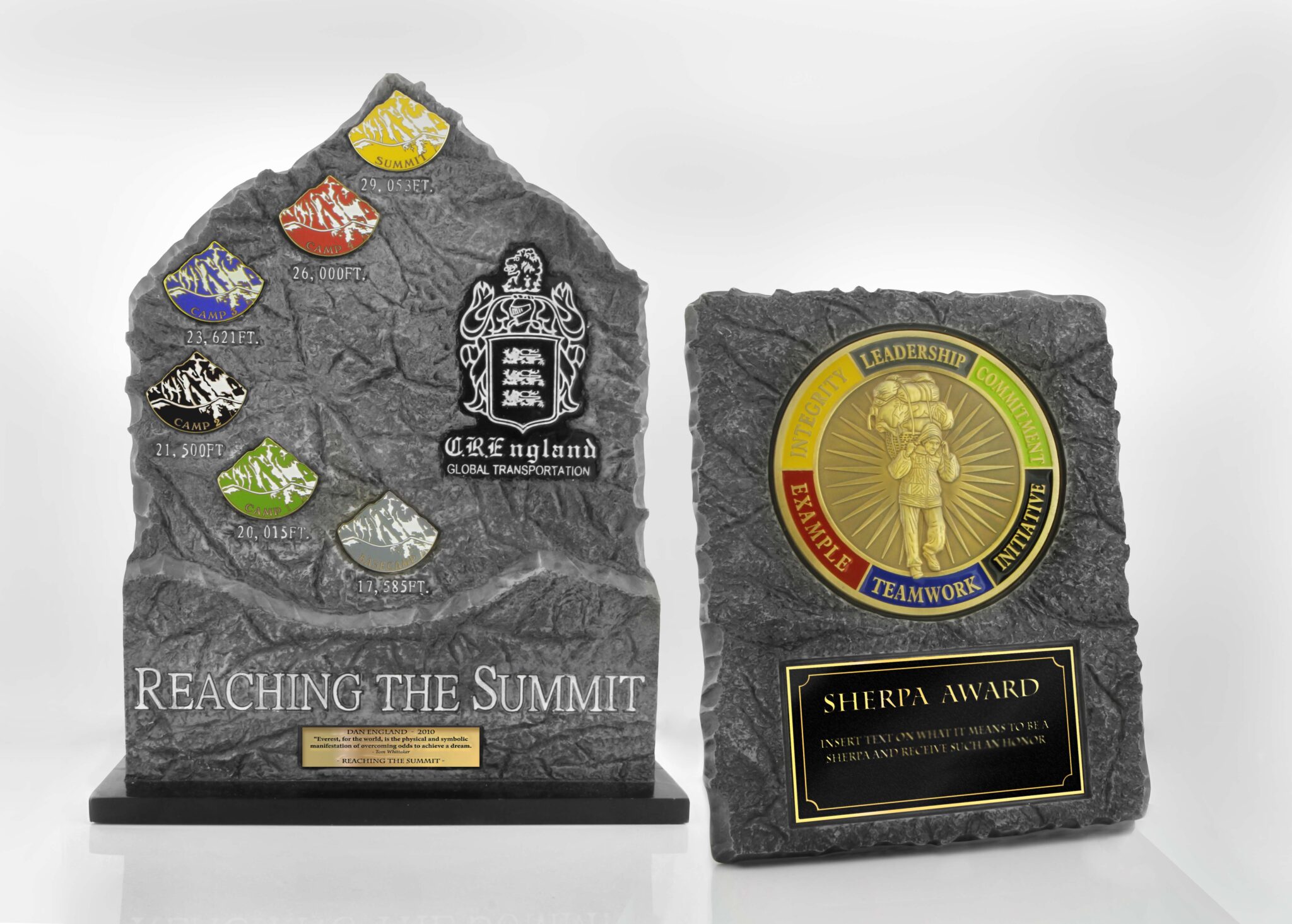 REACHING THE SUMMIT

C.R. England came to SymbolArts for a corporate awards program that was all inclusive to their employees. A lot of time and energy is invested in the drivers but they needed a way to recognize the people who keep those wheels turning. The resulting design featured magnetic inserts, coins, medallions and custom displays to bring it all together. Truckers may not seem like a sentimental bunch but the commitment C.R. England has for its employees is apparent in the care with which this awards program was created.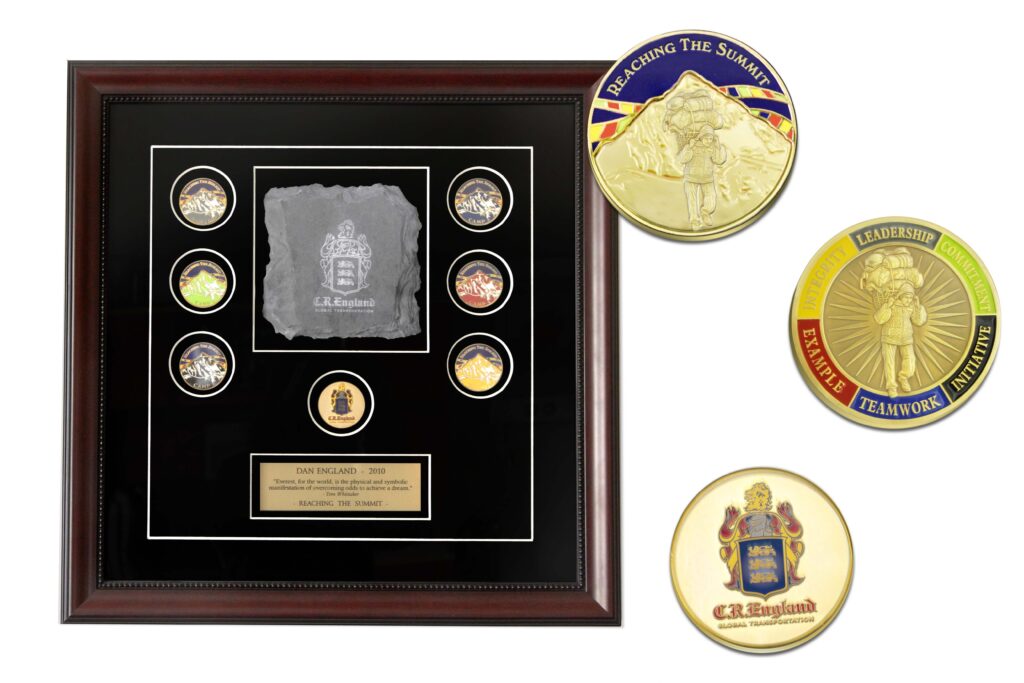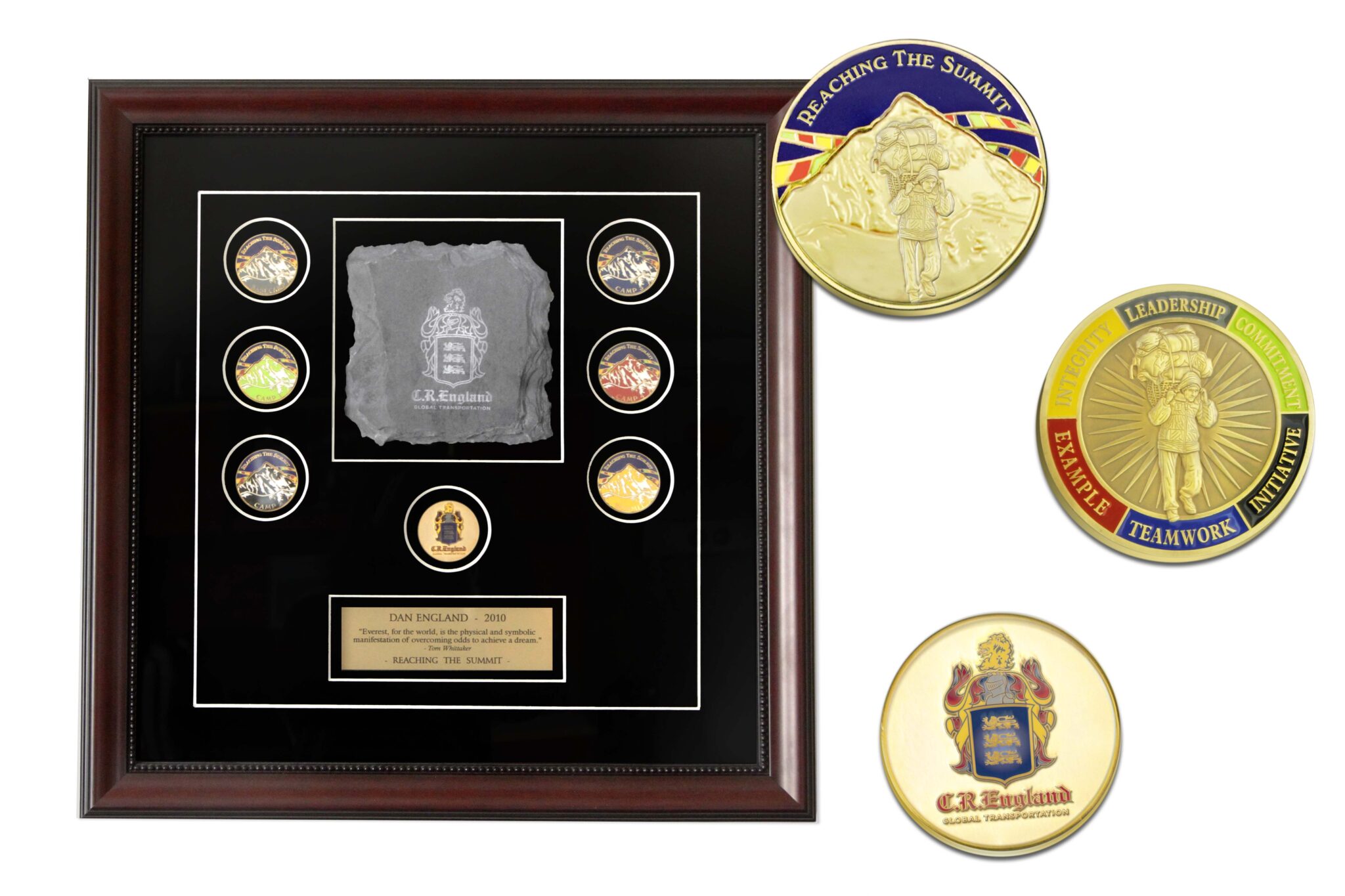 The details: The trophy was created out a of a custom shaped acrylic mold designed to fit each magnetic coin piece. subsequent awards were created to match the original trophy including an engravable acrylic plaque holding a medallion and a special framed display with magnetic coins. Each metal piece was finished in a gold plating with varying imt. hard enamel in vibrant colors for each step in the process.
< Framed display piece presented to Chairman of the Board.
Interested in something similar? Request a free quote and mention the C.R. England example.
---
USANA Health Sciences
AWARDS & RECOGNITION PROGRAM

There is nothing USANA shies away from when it comes to the design of their corporate awards. Eye-catching, stunning creation is the name of the game and they make certain that individuals, departments, regions and teams are well honored. In a selection process enthusiastically led by SymbolArts, the quality and model of each award is considered with great care and thoroughness. The span of this award series is extensive and celebrates all the major accomplishments throughout their entire workforce.
The details: The design process for the USANA awards program saw dozens of hand drawn concept artworks created by our in-house art team to get to the final selection. Most awards feature a combination of metal and acrylic with custom engraving and soft or imt. hard enamel coloring.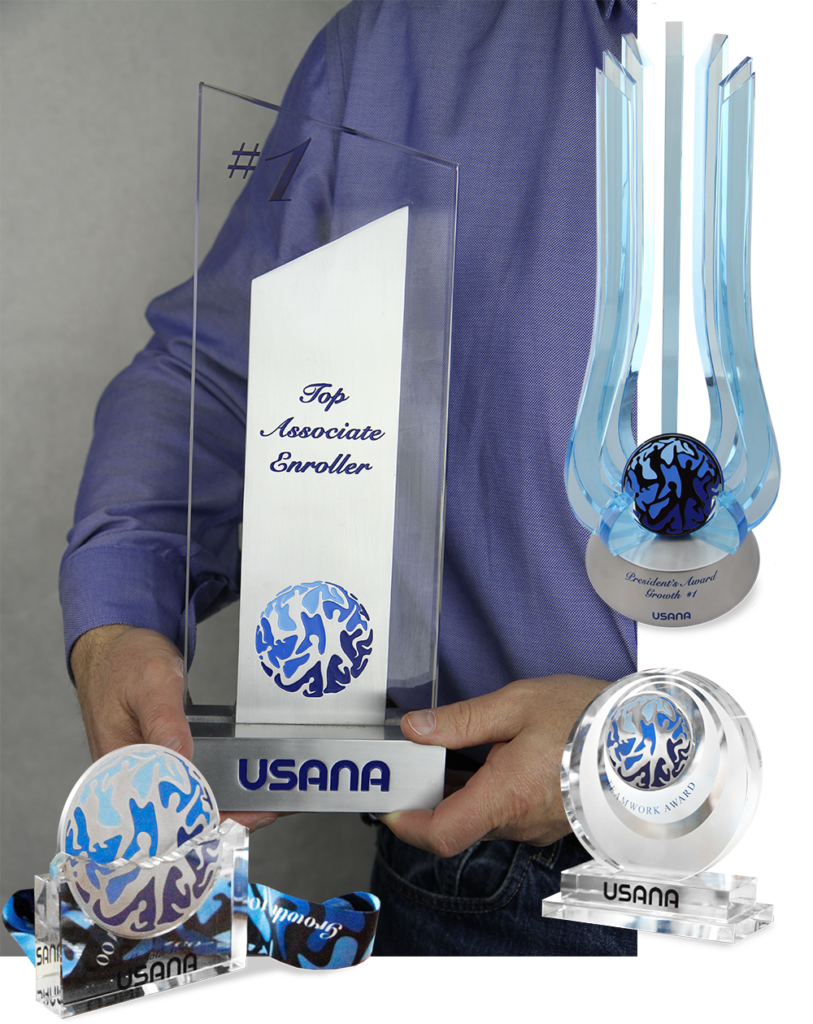 ---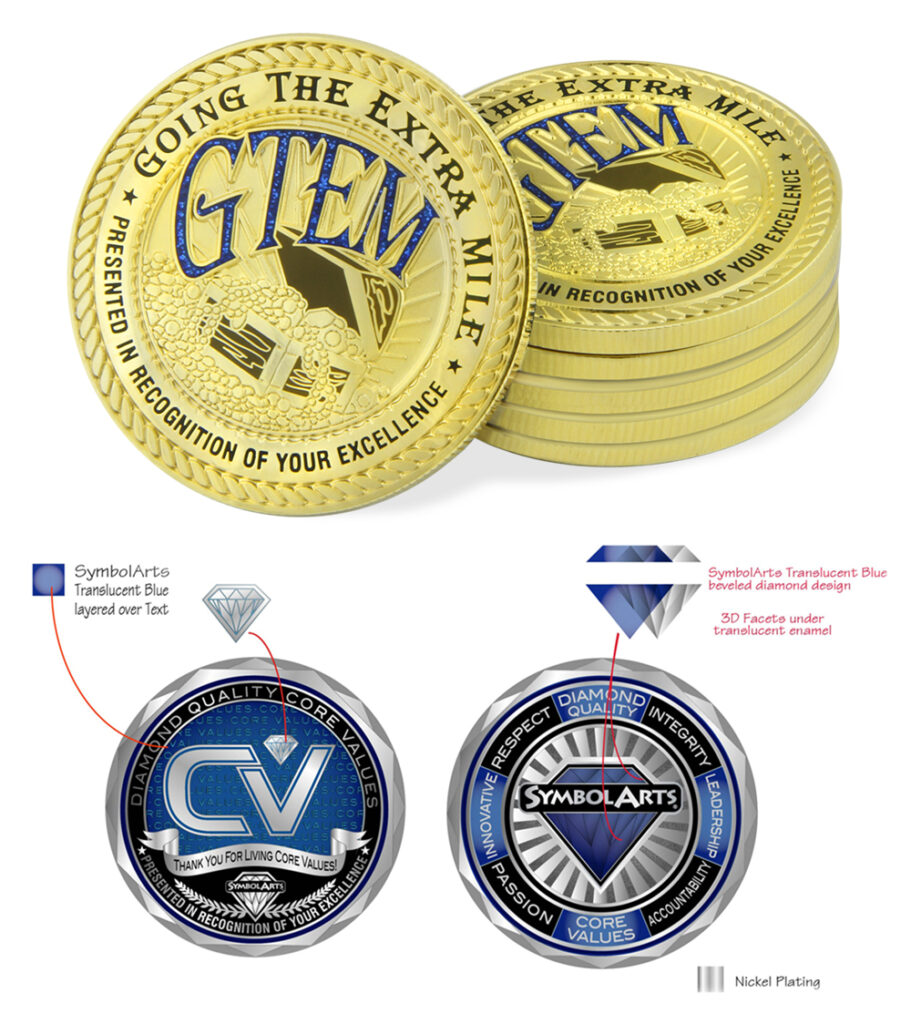 GOING THE EXTRA MILE

Recognition programs don't always have to be huge trophies and big goal markers. Sometimes a small token to keep at your desk makes the biggest impact. At SymbolArts the GTEM (pronounced get 'em) coin program is a favorite. Employees are encourage to nominate fellow coworkers for "going the extra mile." Anything from staying late to help on a big project or giving a ride to an office mate having car trouble. At SymbolArts we specify that recipients should be good examples of living our Core Values. Once reviewed, the nominee receives a coin to display on their desk and every quarter can turn their accumulated coins in for a $25 prize. This coin program is a great way to recognize excellence in the moment it happens as well as keep track of those small but impactful experiences throughout the year.
The details: These coins are highly customizable. Add your logo, core values, mission statement, or anything unique to your business and it's goals. Ask one of our sales team members about customizing finishes, color and more.
---
Everyday Heroes Plaque

The Utah branch of the American Red Cross came to SymbolArts looking for a unique award honoring our everyday heroes. A special ceremony was held celebrating stories of intense bravery. 15 individuals, organizations and even one heroic pup received recognition for going above and beyond for their local community. Read more here. Photo credit: March 16, 2018. Jeffrey D. Allred, Deseret News
The details: The plaques designed for this special ceremony are no ordinary plaques. a Custom designed medallion is embedded into the glossy black base etched in silver. The attached glass is set on raised hardware for an attractive multi-dimensional look.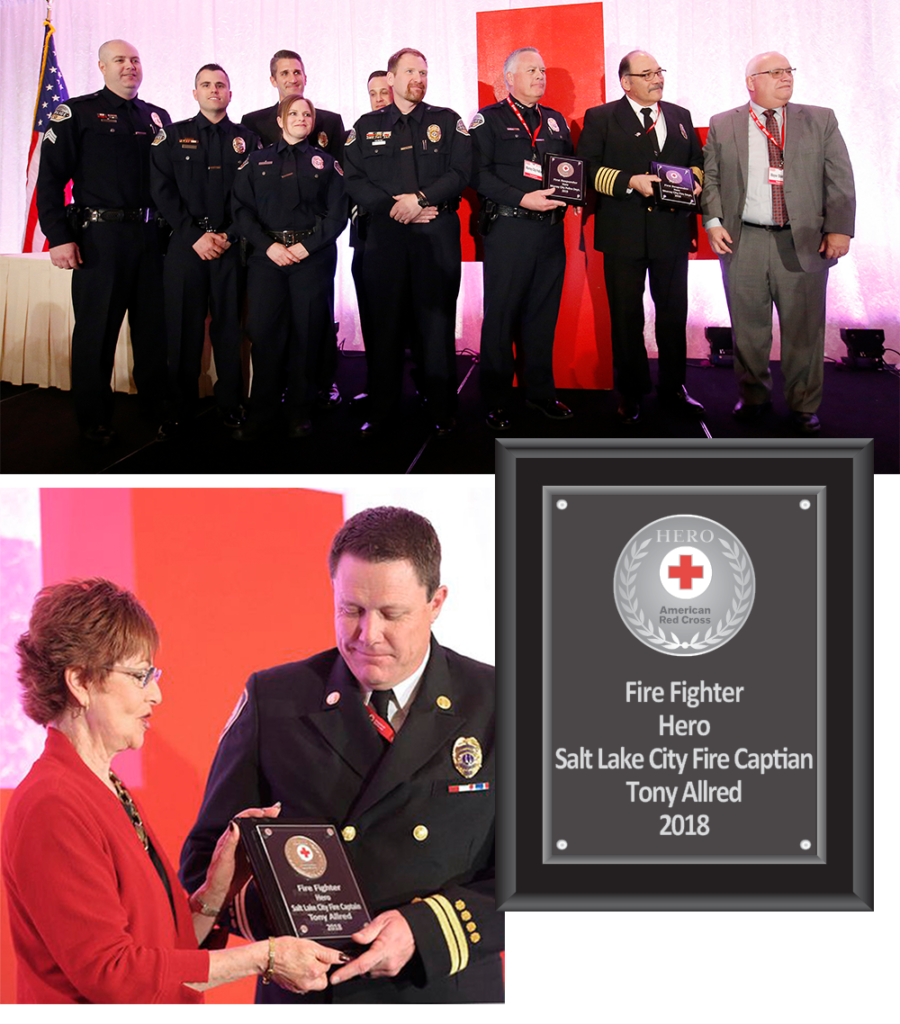 ---
Interested in your own custom project for your city?
Give us a call (801) 475-6000 to talk to a sales representative or
fill out the request a quote form to get started.